!HPEDIT>
International Spacestation (ISS) and ESA ATV 'Johannes Kepler' on 2011 June 18

---
<!HPEDIT_TXT> Data for this pass:
Flight Orientation: XVV
Two Line Elements (TLE) ISS (ZARYA):
1 25544U 98067A 11169.24970980 .00031247 00000-0 35423-3 0 5585
2 25544 51.6414 155.3807 0011537 257.1233 181.1549 15.62022483721071
Elevation: 69° (Maximum)
Distance: 420km (Minimum)
Length of Truss Structure over all (S6/S5/S4/S3/S1/S0/P1/P3/P4/P5/P6) : 100,4m = 49,31" (theoret.Max.)
Speed: 27.680km/Std.
Time: 22:59 UTC, 2011 06 18
Observing Place: Hombressen near Kassel
<!/HPEDIT_TXT>
---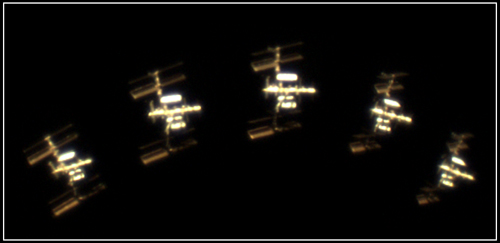 Just three days before reentry and burn up over the South Pacific the ESA transporter ATV
'Johannes Kepler' could be pictured once again as part of the International Space Station.
After launch on 16. of February the vessel had been in space for more than four month.
To support operations on the ISS it delivered different supply goods and fuel. At the end of the
mission the ATV also lifted up the orbit of the Space Station from 345 to more than 380km.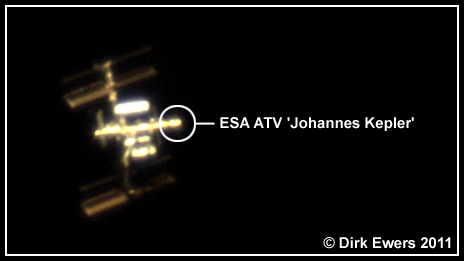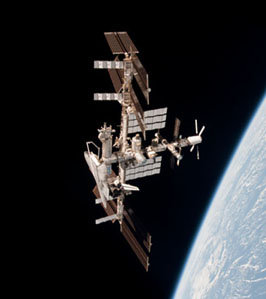 Picture of ISS with docked Space Shuttle Endeavour. The recording was made from a just
undocked russian Soyuz TMA-20 transporter and also shows the still docked ESA transporter
ATV 'Johannes Kepler' (right side). Copyright : NASA.





Story and pictures at :

SPACEWEATHER.COM



<!HPEDIT_TXT> Videosequence of this pass (508 still frames) <!/HPEDIT_TXT>

VIDEO Windows Media WMV (6.5MB)
---
---